Following the conclusion of the NA Expansion tournament, we're wrapping up the week with another edition of
This Week in eSports
!
Continue reading for more information, including which two teams earned the last two 2015 NA LCS spots, off season Team News, details on the recent fining of CLG, and more!
[Reminder] The Expansion Tournament , which decides which two teams will fill the final spots in the 2015 LCS season, has started up and will run almost every weekend through December 21st!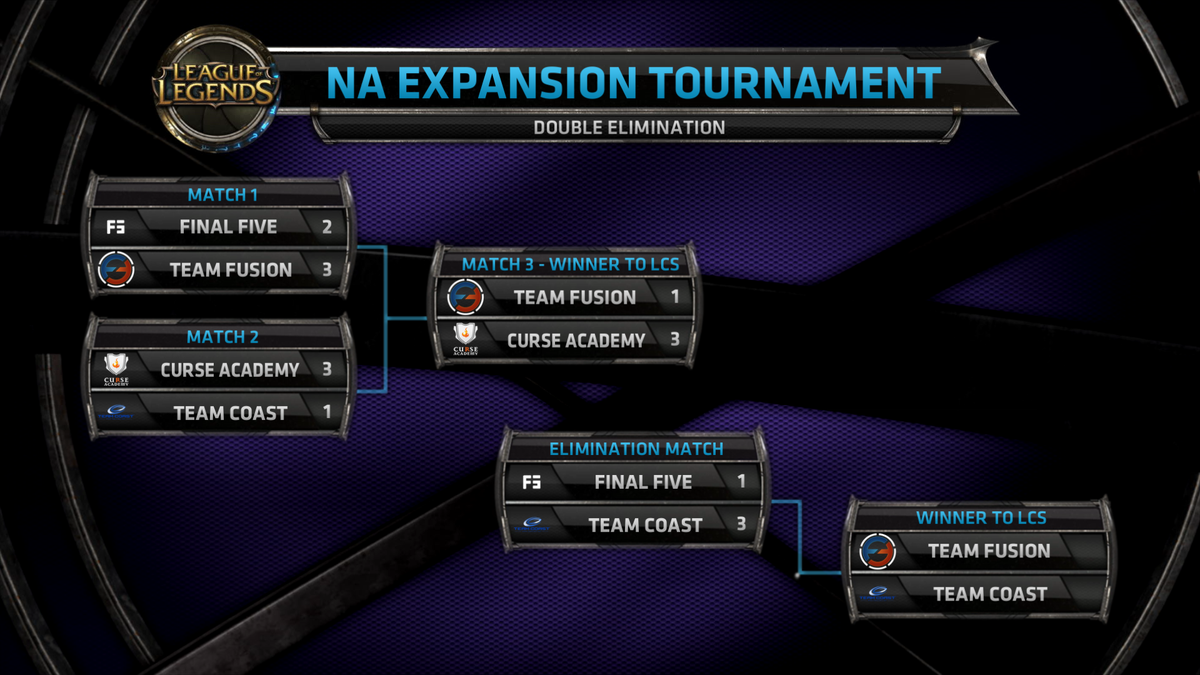 Europe will be wrapping their Expansion Tournament up next week with the following teams:
Off Season Team News
North America:
Curse had a few announcements this week in relation to both of their teams:

Curse Academy may have to seek a new owner in the coming months due to the ruleset in the LCS that one organization cannot own more than one team within the LCS.
Fenix joined the Curse roster for their original LCS team and will be starting in mid lane.
CLG was recently found to be violating the LCS rules on poaching players still under contract. In this case they approached Scarra before his contract with Dignitas expired to ask him to join the team.

"No Team Member or Affiliate of a team may solicit, lure, or make an offer of employment to any Team Member who is signed to any LCS team, nor encourage any such Team Member to breach or otherwise terminate a contract with said LCS team. Violations of this rule shall be subject to penalties, at the discretion of LCS officials."

Scarra will be unable to be head coach for 3 weeks into the 2015 Season
CLG will have to hire a new head coach for the first 3 weeks of the 2015 Spring Split
CLG released this statement over the ruling, including comments from Scarra and HotShotGG
CLG had a few roster announcements this week as well:

Link re-signed to the team to play in mid lane
Xmithie joined the team in the jungle role
Thinkcard will be subbing for Xmithie during IEM Cologne due to visa issues
Europe:
Millenium announced that they would be disbanding and releasing all of their players after losing the Expansion Tournament.
Genja announced that he would be retiring from the competitive scene - citing LCS format, constant travel, and Gambit's break up as the main reasoning.
Korea/China:
A couple new additions to OMG this week:

Uzi left Star Horn Royal Club in order to join OMG
Cool re-signed with the team
Acorn (formerly of Samsung Blue) announced that he would be joining LGD gaming.